Get to Know Chef Maka Kwon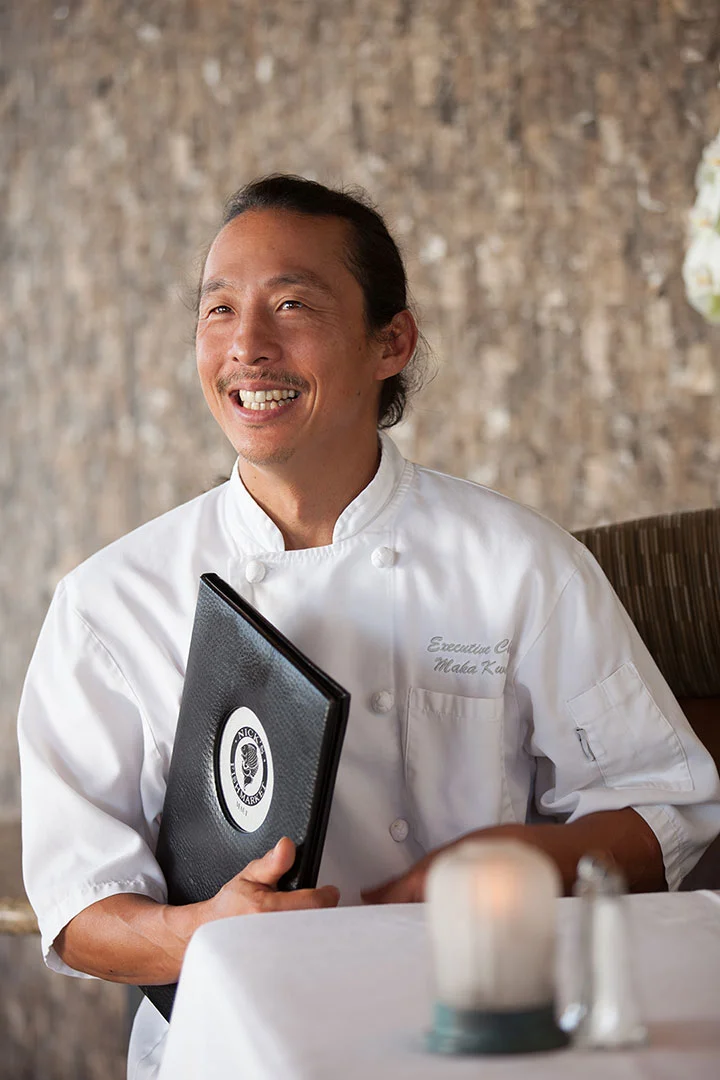 Since 1998 Chef Maka has been a part of the AMP Restaurant Group family, serving in various chef roles at AMP restaurants on O'ahu and Maui including Sarento's on the Beach, Sarento's Top of the Ilikai, and Aaron's Top of the Ala Moana. His education, skills, and commitment to fresh, high-quality ingredients make him the perfect choice to lead the charge in creating vibrant, Hawaiian-inspired dishes that are both (exotic) and humble and appeal to both kama'aina and visitors alike. Get to know Chef Maka, Nick's Fish Market's Executive Chef.
What Should Guests Expect when they Visit Nick's Fish Market?
The menu at Nick's Fish Market is full of locally-styled cuisine that I like to call "fun fine dining." Hawai'i the melting pot of the Pacific; so many cultures are represented here that it just makes sense that our food would reflect that. Everything is house-made and fresh, and guests can find a wide variety of options from high-end seafood to classic macnut crusted mahi mahi. We also have steak, chicken, lamb, and a beautiful vegetable dish – we can work with anything to create not just a fantastic dish but an amazing dining experience. We try to do specials as often as we can, but especially post-pandemic it can be really difficult to source certain ingredients. But our specials always include seafood – that's fundamental. And yes, you'll find a few dishes that are pretty standard among Maui restaurants, but we all do things our own way and with our own flare. You'll also find a touch of Mediterranean on our menu, which is something that owner Aaron Plackourakis brings to the table from his family.
Nearly every Maui restaurant has poke bowl on the menu, but they don't have Chef Maka's Poke Bowl that's reminiscent of a bowl of bibimbap.
Where Do You Get Your Inspiration for Dishes?
I get inspiration from everywhere. I get it sitting at home thinking about what I'm going to feed my child and my wife. I get inspired watching TV, going out to eat dinner, and revisiting past experiences and trying to recreate them. Just growing up in Hawai'i is a huge inspiration – we grew up eating spam musubi, huli huli chicken, Korean, Japanese food – all of these cuisines come together here and give you the opportunity to have a lot of fun with creating food. I love salt, chili pepper, fish sauce, kimchi, vinegar, lemons, and I eat Korean food almost every day – you can see that reflected in a lot of our dishes.
How Important Are Your Ingredients to Creating these Dishes?
At our restaurant, my focus is on freshness. Because our menu carries some really unique and luxurious ingredients like oyster, abalone, and caviar that are challenging to source locally at times, we also look beyond the Island of Maui. To me, the most important thing is that it comes to us fresh so that we can prepare something immaculate for our guests. We purchase the highest quality products we can and work really hard to source the best ingredients. My relationships with the local fishermen and farmers is key – I stay connected with the fishing boats every day to see what's coming in. I talk to my mushroom guy every other day, and my farmer friends always text me to let me know when they have new crops coming in. It's always important to me to stay very close to the sources of the food that we serve. We also serve a prime cut of filet mignon, prime ribeye, an awesome preparation of a rack of lamb as well as a signature chicken dish and vegetable and vegan options.